The annual outing on July 10th. of the St Andrews Women's Group was a great success with a visit to Roberts Bakery.
Arriving at 1pm promp as requested we were greeted by our host and guide for the afternoon, Mr. Graham Finnigan. He explained the procedure and safety rules such as no jewellery, no make up, nail varnish or false eyelashes. Happily we could all comply!
We were then given safety shoes, hairnets, protective coats and tabards. This provided much hilarity. Our first tour was around their Little Treats Bakery where they produce cakes and biscuits for high street stores as well as their own brand.
Today,gingerbread men and chocolate cornflake cakes were being produced. It was fascinating to watch such an automated process from dough to packed biscuits. The smell was delicious.
Our next tour was to the bread production lines. Very hot and noisy but the smell of new bread was appetising. Again we could see the process from dough ingredients through to the wrapped product. Bread is produced here to be sold under all the high street labels as well as their own. They also supply bread to all the sandwich producers in the north west who then fill with their own ingredients and supply to shops and stores on the high street.
The automation here is very impressive and the amount of bread produced is unbelievable.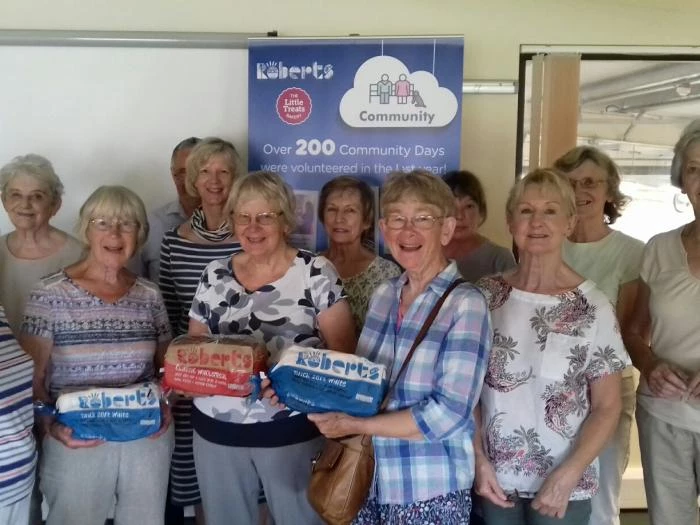 Back to the tea room for a welcome cup of tea and a plate of biscuits straight off the line. Lovely!
Graham then gave us a short talk and film on the history of the Roberts Bakery which started in Northwich in the late 1800's and is still owned and run by the Roberts family.
Part of the philosophy of the company is helping in the community and they are involved in many local events raising money for charity. It remains very much a caring family business.
As a thankyou for our wonderful afternoon and a very generous goodie bag we were happy to make donations to St. Lukes Hospice which is one of the charities supported by Roberts Bakery.
Our grateful thanks to Graham and Roberts Bakery for a great experience.
The next meeting of our group will be the AGM and social evening on 4th. September in the Parish Room. We look forward to seeing you.