The headteacher and staff at Tarporley High School and Sixth Form College have been selected for a top role supporting schools in challenging circumstances.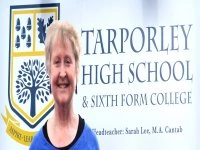 Sarah Lee is one of 137 headteachers to be appointed to the role of National Leader of Education in the latest recruitment round.
NLEs along with staff in their school – designated a National Support School – use their success and professionalism to provide additional leadership support for other schools including those in transition to federation or academy status. They also have responsibility for bringing on the next generation of NLEs and National Support Schools.
Sarah Lee, Tarporley High School and Sixth Form College said: "This is a really exciting opportunity to continue to move our school forward whilst supporting others in the process."
Many NLEs/NSSs report improved exam results at the schools they support, as well as their own.
Charlie Taylor, Chief Executive of the National College for Teaching and Leadership, said: "It's great that heads like Sarah Lee are willing to look beyond their own school gates to help more and more pupils achieve. We have over 1,000 National Leaders of Education and their efforts are at the heart of a self-improving, school-led education system."
"School-to-school support is having a growing impact with benefits for both the schools being supported and those providing the support."

(Ed. Ffion Eaton is a member of the Senior Leadership Team, Tarporley High School)