August 2013
Here are the questions from the Tarvin Imp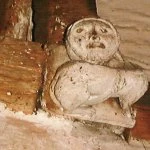 1. Who became the first woman to win an Olympic gold medal for boxing in 2012?
2. Which chemical element has the symbol Sn?
3. Give a year for the life of the explorer Captain James Cook?
4. In Greek mythology who was the goddess of victory?
5. Who painted the "Girl with a Pearl Earring"?
Sorry no prizes just the satisfaction of knowing the answers!
Check out the website on the 26th August 2013 for the answers