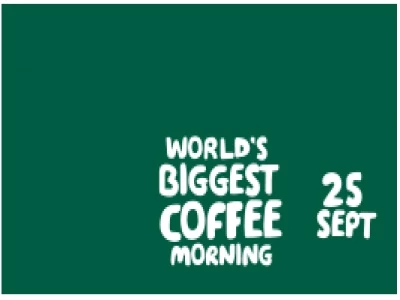 Since 1990, Macmillan Cancer Support have been organising a coffee morning to raise funds for the charity.
The event grew from a local fundraising event in the first year to a countrywide event the following year. With over two thousand people registering to host an event in year two it was swiftly dubbed the World's Biggest Coffee Morning. In 2014 over 154,000 people registered their coffee morning and a record £20 million was raised – that is quite staggering!
Even if you are a non coffee lover in the years since it started the event has grown to include something for everyone. Now amidst the coffee mornings you can find karaoke nights, pub quizzes and garden parties.
How often do you say to a friend 'do you want to meet up for a coffee?' The key point being that you arem getting together with a friend to have fun. Macmillan Cancer Support is saying the same; get together with friends and family, have fun and raise money for a good cause.
You might even fancy trying out a world record attempt such as the Highest Coffee Morning from 2004 or the World's Deepest Coffee Morning in 2002.
So grab your organic fair trade coffee, gourmet Colombian coffee and fair trade coffee beans and join in with the Worlds Biggest Coffee Morning!
And what's more the M&S Cafe are the official partner of the World's Biggest Coffee Morning – so if you don't have chance to host your own coffee morning, just pop along and have your cuppa with M&S, and you'll still be helping to raise funds for this important cause.
The Tarvin venue for World Biggest Coffee Morning as always is the Methodist Church and the event runs from 10.00am and noon. As well as tea, coffee & cakes (all of which are without charge- just a donation to Macmillan), there will be a raffle and a bric-a-brac stall.